DashPanel
Customisable Dashboards for Sim Racing.
Description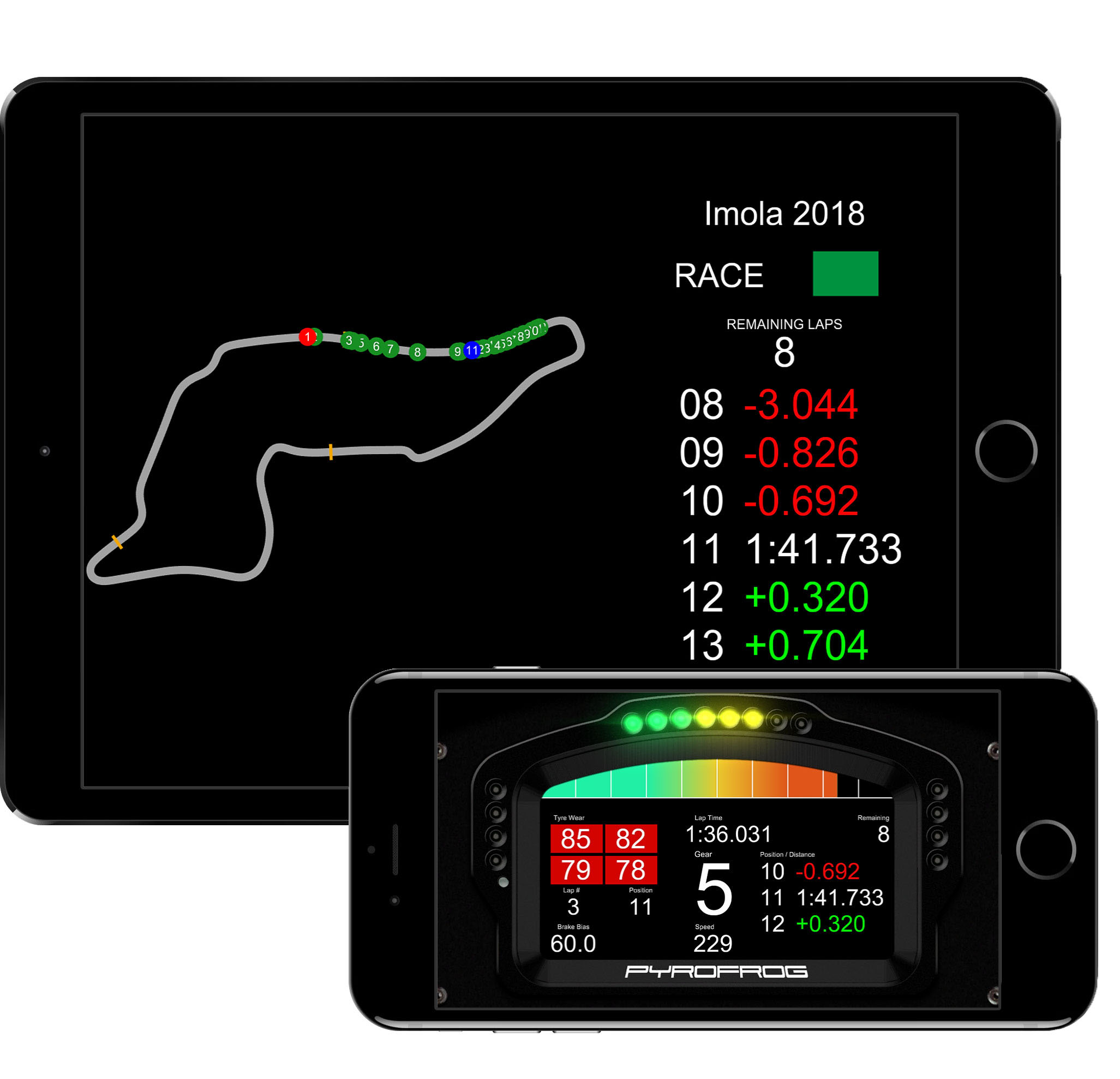 Create fully customizable dashboard displays for your favourite racing sims on your Android/iOS device or PC (USB monitors, USB480, overlay mode on screen or VR HMD).
Key features
Single client for all supported games.
Powerful editor allows you to modify built in dashboards or build one from the ground up.
Server automatically detects games and reads data with minimal configuration required.
Time unlimited demo version that reads RPM, Speed and Gear.
Full data unlocks can be purchased for each game via the in app store.
---
Supported games and platforms
| Game | PC | | |
| --- | --- | --- | --- |
| Assetto Corsa | | | |
| Assetto Corsa Competizione | | | |
| iRacing | | | |
| Dirt Rally 1 & 2, Dirt 4 | | | |
| F1 2012, F1 2013, F1 2014, F1 2015, F1 2016 | | | |
| F1 2017, F1 2018, F1 2019 | | | |
| RaceRoom Racing Experience, Race07, GT Legends, GTR2 | | | |
| Project CARS 1 & 2 | | | |
| Rfactor 1 & 2 | | | |
| Automobilista, Game Stock Car Extreme | | | |
| Live For Speed, BeamNG | | | |
| KartKraft | | | |
Widget compatibility
To check what widgets are compatible with a sim go to the store tab within the app and press the info(i) button on the bottom right to open the compatibility screen.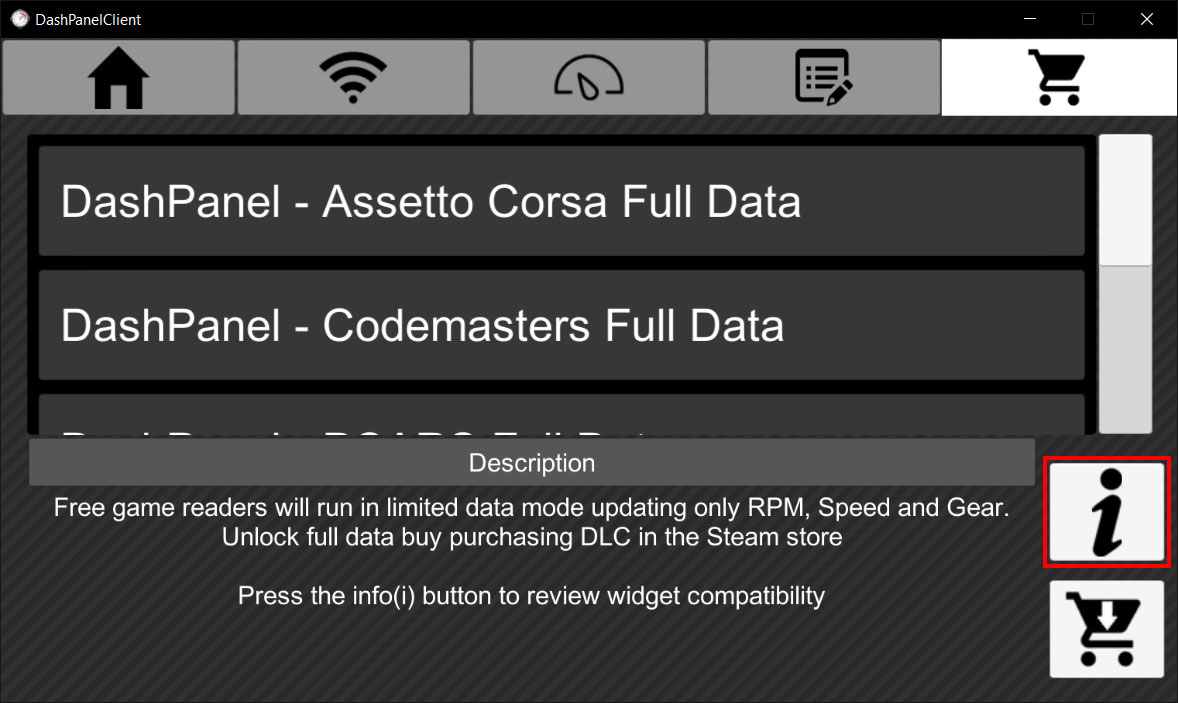 Please add widget X to game Y
The data provided by each sim is made available by its developers and therefore I have no control over what widgets are supported. If you wish to see more data provided in a sim make a request with the specific developer.
---
Instructions
---
Downloads
Client:
Install the client DashPanel from:







Server for Mobile clients:
The latest version of the DashPanelServer is distributed with the free Steam distribution of DashPanel! Get the server here Setup Android/iOS

Only use the following versions of DashPanel for compatibility with older Mobile devices!
Old DashPanel verions
---
User rigs
DashPanel users sim rigs.
Submit yours to pyrofrogstudios@gmail.com

---
Disclaimer
DashPanel is NOT official software of Codemasters™, Image Space Incorporated™, iRacing™, Simbin™, Slightly Mad Studios™ or Kunos Simulazioni™. The names pCars, Project Cars, Assetto Corsa, AC, iRacing, rFactor, rFactor 2, Game Stock car, Automobilista, RaceRoom Racing Experience, GTR2, Race07, RaceRoom The Game 2, and GTR Evolution are used for identification purposes only. All trademarks and registered trademarks are the property of their respective owners.
THE SOFTWARE IS PROVIDED ""AS IS"", WITHOUT WARRANTY OF ANY KIND, EXPRESS OR IMPLIED, INCLUDING BUT NOT LIMITED TO THE WARRANTIES OF MERCHANTABILITY, FITNESS FOR A PARTICULAR PURPOSE AND NONINFRINGEMENT. IN NO EVENT SHALL THE AUTHORS OR COPYRIGHT HOLDERS BE LIABLE FOR ANY CLAIM, DAMAGES OR OTHER LIABILITY, WHETHER IN AN ACTION OF CONTRACT, TORT OR OTHERWISE, ARISING FROM, OUT OF OR IN CONNECTION WITH THE SOFTWARE OR THE USE OR OTHER DEALINGS IN THE SOFTWARE.